Automatic Poultry Nipple Drinker 3 x Nipple Drinker Feeder
Automatic Chicken and Poultry Drinker with 3 Nipple drinking points, complete with Unit, brackets pipe and adaptor. Keep your Hens Happy Healthy and Productive with a constant and amplesupply of clean water. 
Clean and ample water is vital to help keep your Hens healthy, happy and productive. Here is our easy solution to maintaining a constant supply of clean and ample water, easy to install, no mains water required, simple gravity feed just connect to your clean water bucket, canister or even an old clean paint pot. Simply connect to your water source (bucket or canister.)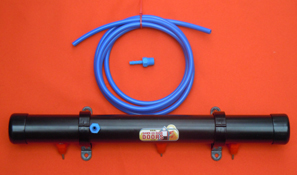 This is our 3 drinking point Dawn till Dusk Automatic Poultry drinker. You can choose from our range of sizes and configuration to suit your needs and flock. Choose  the size to suit the number of birds, chooks or hens that you need to keep well fed and watered.
Our Automatic Drinkers and Feeders will work for your Birds including  Chickens, Ducks, Hens, Quails, and Pheasants, in fact they work great for most types of  Poultry. Your Drinkers will work hard to keep your birds constantly fed with fresh clean water. Dawn till Dusk Drinkers are custom designed and made in the UK. Purchase our products this website. Our Automatic Nipple Feed Drinkers are available in a range of in different sizes and configurations to suit your specific needs.
AUTOMATIC 3 Nipple Chicken and Poultry Fixed Drinker
This is a 'MUST' for anyone who is sick and tired of cleaning water containers out and to be honest at this price who in their right mind wouldn't want one?
You can use some sticky back plastic and muck about for hours/days making your own (watching it drip, re-drilling holes and generally wasting money and time) and if you have nothing better to do? go for it! Personally I've got a life, and this price we've got the drinkers on every pen on our estate!
This is going to help you have a healthy flock and a better egg yield (just what we are all trying to achieve)
The unit is gravity fed, meaning it only needs to be a little higher than the drinker itself (so it needs no power)
9 Reasons why you should purchase this multi-feed drinker for your Chickens, Geese, Ducks (in fact whatever your Poultry or Birds)
Enables you to leave your flock unattended knowing they still have their water for the weekend
Capable of holding large capacity of water (depending on your water butt size) WHICH IS NOT INCLUDED!
Keeps water clean
Eco friendly!
Reduce's diseases
Enables ease, to administer vitamins etc
Saves on labour
Capable of releasing water at 360 degree angle
All parts are removable and or replaceable in the advent that it should be needed.
Gravity Fed Water Feeder Pack Contains:
3 x Nipple drinker
2 x Hose ends (for drinker and water tank, tank/bucket not provided)
1 x 2 meter pipe (Extremely supple British made water pipe)
2 x Fixing brackets
4 x Wood screws
This simple but very effective device is easy to set up, all parts (apart from the bucket) are included.
All you have to do is drill a 12mm hole and twist the tapered threaded nut into your plastic container
(We can even provide the 12mm drill bit for an extra £1.98 if required)
This automatic drinker will go hand in hand with our automatic door opener
These two items will give you piece of mind when your not about,
That your flock is in full working order
Additional Sizes and Kits Available for 5, 2 and Single Nipple Feeders to suit all your needs:  available in our Fixed Feeder or Pod formats. To choose the product that suits you best simply browse the options on the right-hand menu and click to buy using Paypal. If you want to checkout the answers to any other questions try our FAQS about our Automatic Poultry and Chicken Drinkers here