FAQs about our Automatic Poultry Nipple Drinkers and Feeders from Dawn till Dusk
Our Automatic Drinkers and Feeders will work for your Birds including  Chickens, Ducks, Hens, Quails, and Pheasants, in fact they work great for most types of  Poultry. Your Drinkers will work hard to keep your birds constantly fed with fresh clean water. This is achieved with our range of custom designed and made in the UK products which can be purchased dire from us here Automatic Nipple Feed Drinkers in a variety of sizes and configurations to suit your specific needs.
 Why Use a Nipple Feed Drinker for Your Poultry?
To maximise the well-being of your Hens  or Birds, they need a constant supply of fresh and clean water, hopefully this is not a surprise to you but it seems to be to many birds. Unfortunately your birds generally don't realise what is best for themselves and seem to take delight in making a mess in the water or spilling it frequently. This creates more work for you and most importantly runs the risk of contaminating their water supply. This is not good news as it can leads to your birds becoming ill and significantly increases the risk that they might. So that is where our Automatic Hen and Poultry Drinkers really come in handy. Simple principles but they have to be well executed and we have made certain that we have the specification and quality perfected.
Your Chooks and Chickens can help themselves and the quality of the valves in fittings on our Nipple Drinkers means you wont get spills and mess. We can supply for 1 to 6 or more and are happy to quote for custom specifications. We can offer two forms the fixed single Pipe or the flexible connected series of single drinker pods.
Do I Need Power or a Pump to run the water supply to the Automatic Chicken Drinker feeder?
The simple answer is NO, you do not need mains or batteries to run our Automatic Drinkers from Dawn till Dusk, they will keep working. You just have to check the level of the water and use a preferably covered reservoir that supplies water on demand by the magic of gravity. Here is an example of one of the tanks we can supply, which comes ready fitted with the correct connections so you can just join the 8mm pipe and connect it to one or more of our drinkers.
Will the Water Supply Enable Me to Leave My Hens Unattended?
We originally made our products for our own flock, so believe us we know we all need the odd night off and a no hassle break now and again away from the homestead. Make sure of course you have an amply sized Feeder Tank at the correct height for your Birds to be certain the water will not run out. It is also a good idea to organise a friend or family member just to check the water levels and top-up whilst you are away.
Example of our Covered and Sealed Water Tanks and Reservoirs which simply need to be placed at a height sufficient often on the roof of the Coop with the supplied Pipe attached.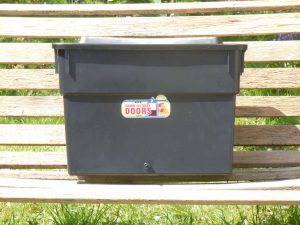 Is the Drinker Reservoir Tank supplied?
No you can purchase the Tanks and Reservoirs separately from us, and simply use the Connector that is supplied with your Drinker with instructions to attach to your own Tank/Reservoir. If you want to connect to a Water Butt you can purchase one of our Connectors with instructions see below.
What is the Difference between the Pod and Fixed MulTi-Nipple Drinkers?
The following is an example of the Pod Drinkers, they can be purchased as Single Packs or as a 5 Pod Complete Pack. The T-Pieces enable multiple Drinkers to be fed from a single tank or reservoir.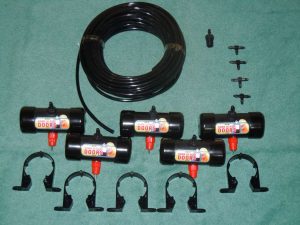 Is it Easy to install?
Whether you purchase the Dawn till Dusk Fixed Pipe Drinkers or the flexible Single connected Pod system from us, both systems are easy to use and come with all the parts needed except the Reservoir/Tank or Bucket. If you wish to secure the Hose pipe to your own water Butt we would recommend our own Water Butt Connector that comes with easy to follow instructions.
Can I use the system to administer water soluble Vitamins?
Yes you can make sure you take advice on what are the right supplements for your Hens or Birds and that you measure the dilution proportions accordingly.
Are Parts Replaceable?
All parts are removable and capable of replacement if required.
Are All Parts Supplied?
Each product page sets out exactly what is provided with the particular product pack but as a general indication, the Drinker Unit or Set of Drinker Pods, the specific length of pipe normally 2 metre length for each Pod or Drinker unit with (inside diameter 5-6 mm and outside 8 mm.) pre-fitted Drinker to Pipe/Hose  connector(s), T-Pieces (Pods Only) Brackets (pair of Brackets for 2-3 Nipple Drinkers and 1 per Pod when using Pod System and wood screws as required to fix the brackets to Wood. If you wish to fix single Pods to Coop walls
Not included Tanks not included and if you require the fitting and connector with instructions to fit to your own Water Butt please order as a separate product. All you have to do is drill a 12 mm hole and twist the tapered threaded nut into your plastic container. The Drill is not included but again it can be ordered from us for just £1.98 if required.
What is the cost of Postage for Multiple Drinker Items?
We are currently as of June 2013 able to provide a fixed per order postage cost by courier of just £3.00 irrespective of the number of items and weight that you order on this product range.