"All You Need for a Sensational Summer Holiday for you and your Happy Hens"
*** Opener Unit  AND Aluminium Door with Rails AND Automatic 3 Point Nipple Drinker ****
The Automatic Chicken Door Opener Door and Drinker complete package for this busy time of year, when you may well need a little hand at home to look after your hens whilst you are away and to make sure you can enjoy a long hot summer watching the sun going down, not worrying about your chooks and knowing they can enjoy the long days too.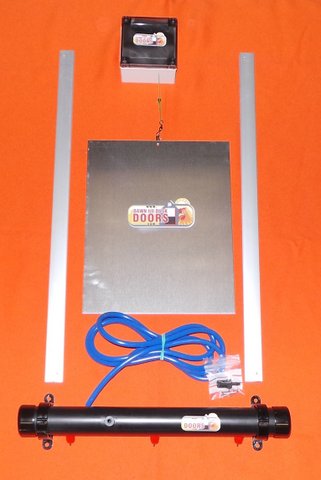 Automatic Chicken Door Complete Kit Opener Door and Drinker in 1 Package at a great price.
Friends and family will be happy to help you and your hens when you show them this complete kit already installed before handover for your holidays
Easy to install, no wiring, no exposed contacts, no mains supply required
Less hassle, more freedom, you can go away guilt-free
Runs on just 4 AA batteries, supplied.
Enjoy the ease of your daily routine before your holiday and after you get back.
Automatically adjusts for daylight hours, no difficult set-up or need to keep changing the times
The Complete Kit Automatic Door Opener Unit, Aluminium Door, Runners and Gravity Fed Automatic 3 point Nipple Drinker
Waterproof Opener,  we always get some rainy days
Perfect for you Chooks, Chickens and their Hen House or Coop
Shipped quickly to the UK and Europe
12 months warranty and informed and friendly support
Designed made and manufactured in the UK
(Video Demonstration of Door Opener  right here on Home page)
Automatic Chicken Door Complete Kit includes Opener Unit Door Rails and 3 Point Dinker
Automatic Door Opener and Closer, Door and Drinker supplied with all you need by Dawn till Dusk Doors in a single package. This includes the unit itself, the Aluminium anti-rust Door and Rails and the Automatic Gravity Feed Drinker (3 Point Version.) Clear instructions and videos complimented by friendly informed support by email or telephone. Your Hens can thrive in the sunshine, are free to make the most of the changing daylight hours and enjoy a nice drink of water to make sure they don't get too hot and bothered. Sound good, well it gets better because this complete kit not only saves you time and effort but a good few pounds compared to buying the items individually. 
Complete Package for 1 single great value price
Everything you need shipped in one package at a great price, it only take a littel time to install and a few days for your Hens to get used to their new found freedom. Operating Dawn till Dusk, automatically adjusting to the daylight hours.
Holiday Time – Need some help to take Care of your Hens?
Install this Automatic Poultry Door Opener Door and Drinker complete kit and you will have all you need to encourage a good friend or trusted family member to be more than happy to help out with your hen chickens a lot more freedom. It just takes a few days for your chooks to get used to the new regime and they will love it, but get them used to it with the full kit installed before you show your volunteer helper and you will find you quickly get an enthusiastic rather than a reluctant yes from your dear pal or loved ones. Phew now you can really go enjoy the summer sun, knowing that you hens are in safe hands ad enjoying their Wimbledon strawberries.
We designed these products for all types of Chicken Keepers and we use them ourselves on our hens being keen breeders of Orpington Bantams and rare breeds ourselves. This automatic door will allow you to get the best out of your chickens, by giving them maximum time to roam without hindrance to yourself, leaving you to get on with the day to day activities whilst your chooks are free to happily rummage and roam. Happy chickens, means less hen-pecking, fitter chickens and even better quality eggs! Afterall that is what we are aiming to achieve  so why not make it easier to do so with this great packaged kit!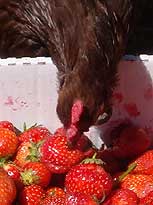 To answer some frequently asked questions :
Does this have a timer?  I've never met a chicken with a watch!! And if you think that keeping your Rooster in later in the morning, is going to keep him quiet then you might need to take-up a different hobby. The hassle of having to change the timer to suit the daylight hours becuase otherwise the Fox may get your Hens, it just would not be worth the grief. Automated it says and automated it is.
Does this have an 'Overide button?' No and doesn't need one, you just lift the door in the normal fashion this will not affect your programmed setting in any way!!
The Door itself is 2700 mm Wide with rails 

without Rails it measures 250 mm 

Height is 300 mm.

Rails/Runners are 600mm long.
The Door thickness is 2mm, it is a good strong door that will not flex
 THE AUTOMATIC CHICKEN DRINKER
This is the 3 point Automatic Chicken Nipple Drinker, completed with required fittings, you can see on a basic Chicken Coop how easily fitted in this picture. (Bucket not supplied, you will have that to hand or can purchase one of our Water butt converters. There is no power, just needs a bit of height for the effect of Newton's gravity to perform its magic effect. No different to what makes Apples fall off the trees.