EASY to buy, FAST delivery, Easy and Fast to fit
(NB: this item does not include the Dawn Till Dusk Doors Automatic Opener/Closer Device)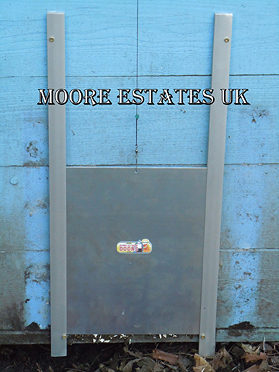 We have used these doors and rails on our estate for some time and have been delighted with the results
The light weight aluminium door will work perfectly with our automatic door opener and with other makes of opener as well, its plain and simple!!
The Door itself is 270 mm wide with rails (without Rails it measures 250mm)
Height is 300mm
The Rails / Runners are 600mm long
Door thickness is 2mm (Good strong door that won't flex)
This unit works hand in hand with our purpose made Automatic Chicken Door Openers  Dawn Till Dusk Door opener!! and our Automatic Drinker
If you require any more info (any questions at all) please contact us
INCLUDES the door and rails only, NO OPENER! OR COOP!