Automatic Chicken Door Opener Product Specification
Saves time, gives your Hens, your family and you, more flexibility and freedom with our very reliable automatic door controller..
This Dawn till Dusk Automatic Hen House Door Opener and Closer , does exactly what it says. So what else would you like to know?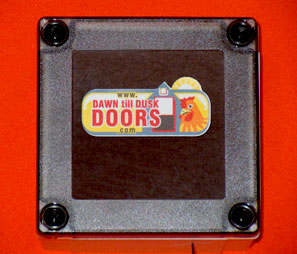 Easy to Install, 4 Screws and tried and tested instructions, just a few minutes from start to finish.
Weather Proof Unit, easy to unscrew to change batteries.
No Mains Supply Required, just 4  x AA lithium long-lasting batteries (Duracell or similar) supplied.
12 Months Warranty, with no quibble, registered automatically when you download your instructions.
Works with vertical doors using single draw string.
FAQ's Frequently Asked Question answered in our online database
Email support and telephone follow-up if you would like just a little more help to get you started.
Reliable and experienced Chicken breeders , we use them ourselves every day, because we know that taking care of our birds, enabling them to freely roam and know they can get back-in before the dusk settles is good for our birds, egg productvity and that in turn is good all of us bird keepers as well..
The Automatic Chicken Door Controller does not include the door, because most people already have them. and they are generally specific to suit your Pop hole and Hen House.