Automatic Chicken Poultry and Bird 2  x Nipple Drinker Feeder
This two Nipple  Automatic Drinkers and Feeders will work very well for your Birds including  Chickens, Ducks, Hens, Quails, and Pheasants, in fact they work great for most types of  Poultry.
Product Code: DTD-DrinkX2
Product: Automatic 2 Nipple Chicken and Poultry Fixed Multi-Drinker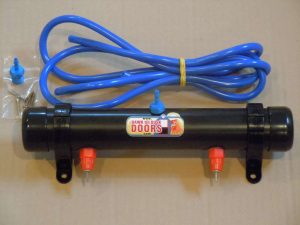 Your Double (X2) Nipple Automatic Drinker will work hard to keep your birds constantly fed with fresh clean water. This product is custom designed and made in the UK products and can be purchased direct from us here online.
Our Automatic Drinkers and Feeders will work for your Birds including  Chickens, Ducks, Hens, Quails, and Pheasants, in fact they work great for most types of  Poultry. Your Drinkers will work hard to keep your birds constantly fed with fresh clean water. This is achieved with our range of custom designed and made in the UK products which can be purchased dire from us here Automatic Nipple Feed Drinkers in a variety of sizes and configurations to suit your specific needs. (Put like that It's a bit of a no brainer really, isn't it?)
This is a 'MUST' for anyone who is sick and tired of cleaning water containers out and to be honest at this price who in their right mind wouldn't want one?
Ideal Use of the X2 Drinker: For two or three birds fixed to the side of the Coop as you can see in our FAQs, this is a great bonus for your birds. Robust and ready to simply install with all you need, this product can just be connected to a basic water bucket, ideally one you can cover to keep unwanted material out of the water supply.(Bucket not included.)
Designed for Hen Keepers Who Have a life to Lead: You can use some sticky back plastic and muck about for hours/days making your own (watching it drip, re-drilling holes and generally wasting your time effort and money ) believe us we know what it is like, or save yourself some hassle and let us do the hard bit.!
Healthy Happy Hens Lay More Eggs: Your Drinker will work hard 24x7x365, for you and your birds, from quite literally Dawn till Dusk, Remember the well-being of your birds is important because happy healthy hens not only make the whole process more fun for us all but lay better and more frequent eggs. Which after all is why we all like to keep them to start with.
Easy Install, Supplied with Everything but the Bucket and Water!
The unit is gravity fed, meaning it only needs to be a little higher than the drinker itself (so it needs no power) and it will work day-in and day out. Included in your X2 Drinker Pack are the following components; Fixed x2 Nipple drinker Unit, 2mm of 8mm Flexible Pipe, the Connector you will need to fix to your bucket, the one on the the unit is already pre-installed, Simple instructions provided if you need them and online email support to back it all up. The 8mm Drill Bit we can also supply if required so you can get straight on with the job when you unit arrives.
More Great reasons to buy your X2 Automatic Drinker
Helps Keep Your Flock Happy and Their Egg Yield High, Saves You Time effort and Hassle

Enables you to leave your flock unattended knowing they still have their water for the weekend, assuming you have their food sorted and of course they can let themselves out at dawn and dusk using perhaps our

Automatic Hen House Door Opener and Door.

 and have got a friend to just check all is fine now and again.

Can supply a large reservoir of water, (depending on your Bucket/Water Butt size) WHICH IS NOT INCLUDED and for which we can supply the right robust Brass connector ad instructions so that you can obtain and fit yourself.

Keeps water clean, reduces the chance 

of water contamination and related bird illnesses and diseases
Provides an easy way to distribute water soluble vitamins and treatments (subject to instructions of those products.)
Built to be Hen Tough and Resistant, capable of releasing water at any angle, all parts and removable and replaceable should that be a future requirement.
This Product X2 Drinker Pack Includes:
Included in your X2 product Pack will be;
Your X2 two Nipple Automatic Fixed Drinker Unit

Pre-fitted 1 Connector on the unit that will be used to connect the supplied 8mm diameter pipe

Additional Connector to ne be fitted to your own bucket/tank. If you are using a large Water Butt you will need the additional Brass Connector Product. (see our Drinker FAQ Page for more info)
Flexible Supple Pipe/Hose 2 Metre Long Length 8mm diameter (outside) and inside diameter 5-6mm.

Fixing UPVc Brackets and corresponding Wood Screws

Instructions and Online Email Support.
Easy Install
This simple but very effective device is easy to set up, All you have to do is drill a 12mm hole and twist the tapered threaded nut into your plastic container (Bucket.) As above if using a robust water Butt you might wish to purchase our specific Water Butt Connector. We can even provide the 12 mm Drill Bit for just £1.98 if required)
Additional Sizes and Kits Available for 5, 2 and Single Nipple Feeders to suit all your needs:  available in our Fixed Feeder or Pod formats. To choose the product that suits you best simply browse the options on the right-hand menu and click to buy using Paypal. If you want to checkout the answers to any other questions try our FAQS about our Automatic Poultry and Chicken Drinkers here
Postage UK Only
This item is shipped currently only to UK customers, multiple Dawn till Dusk Drinkers can be ordered for just a single fixed Postage cost of £2.99.