Description
Chicken Poultry Coop Hen House Door Light Aluminium
Chicken Poultry Coop Hen House Door Light Aluminium, to ensure your Hen House Door never gets stuck again. Designed and manufactured in the UK for Chicken Keepers everywhere. This great value Aluminium Door comes complete with matching and east to install rails. See pictures and dimensions for details. Pure and simple it gets the job done and means you don't have to worry about your hens getting all 'cooped-up' as the expression says.
Thought about making your own Chicken Coop door?
If you like us have got fed-up with the overhead door on your coop getting jammed you might have thought about making your own? But at this price, you can get the job done and get on with enjoying life, why waste your precious time?
Easy to Buy, Fast to Deliver and really easier still to fit why not just save yourself, time , effort and the hassle of finding the right materials and getting it all to work fine. That's why we started making ours. They work great on their own of course but even better still with one of Automatic Chicken and Poultry Hen House Door Openers.  Our packaged kit deals give you even more free time and flexibility whilst your hens can roam and rummage freely, Dawn till Dusk, in and out of one of our Light Aluminium Doors.
Design for smooth running and an easy life for you, your hens and your family, whatever the weather.
Aluminium light-weight Hen House and Coop Pop Hole Doors we use ourselves
We started making all our products with a real understanding of what we and our hens need to lead an easy life. We use these doors on our own coops , at Moore Estates. No pesky Fox or Rat is going to get this one open, that is for sure. You can see from the Photographs, it just takes 4 screws, supplied to install your door rails and slot your door in place, job done.
Hen House Pop Hole Door Dimensions as supplied by Dawn till Dusk Doors
Your light weight aluminium door will work perfectly with our Automatic Chicken Door Opener and with other makes of opener as well, or even manually, its plain and simple, it just works.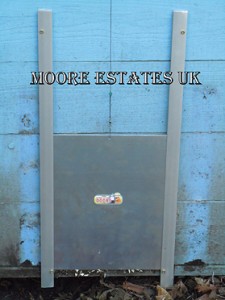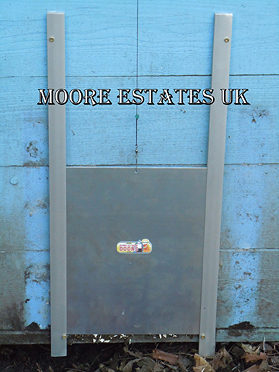 The Door itself is 270 mm wide with rails (without Rails it measures 250mm)
Height is 300mm
The Rails / Runners are 600mm long
Door thickness is 2mm (Good strong door that won't flex)
This unit works hand in hand with our purpose made Automatic Chicken Door Openers, see related products below if you would like to take a look.
This product INCLUDES the Aluminium door and rails only, NO OPENER! OR COOP! (Just to be certain.)
If you require any more info (any questions at all) please contact us
Postage to the UK Mainland is just £2.99, now at this price you can't say fairer than that, can you.
Non UK Postage of Light Aluminium Doors
Overseas postage is calculated when you add the item to the Cart, based upon your billing address. If your country is not listed then please just contact us and we will see what can be done to help you.
Please be aware shipping overseas is simply not as inexpensive as shipping within the UK and just reflects the increased price we have to pay. The Automatic Door Opener is not included with this item but can be purchased separately or together with this Door in one of our kits. If you are considering whether to buy an Automatic Chicken Door Opener and closer, then take a look at our kit options below.